Description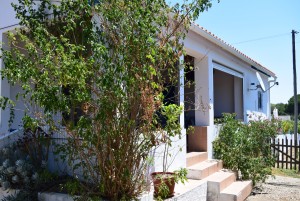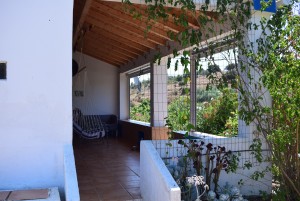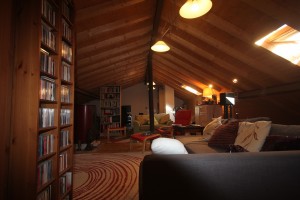 On approach to the pretty village of santa luzia to the left set back off the Ourique road stands this 2 double bed, 1 bathroom, unique, rustic farmhouse (with a difference) set in 6,250m2  of land.
The land is fertile and lavished with thick soil which is somewhat of a rarity in many areas of the Alentejo.
The owners who are keen gardeners have complimented the land perfectly by adding an abundance of fruit trees with most varieties you could imagine. Altogether there are approximately:
52 fruit trees, 25 of which are olive trees and 3 rows of grapevines. It is all fully irrigated and supplied from their own borehole water.
On entering the property from the rear doorway, you firstly enter the back, superb, covered terrace which has a wooden sloping ceiling with a newly tiled roof covering all the property .The owners have also installed cleverly and professionally some up and down see through heavy duty blinds protecting the space perfectly, in the few rainy months of the year.
On entering the home from this area is a long hallway which shows just how long the property is from front to back.
The large family bathroom is immediately to the right-hand side which is useful access for the patio and garden. It consists of a full white suite with a bath and overhead shower the area is fully tiled and as a small window offering ventilation.
Facing the bathroom on the left is the farmhouse kitchen/ dining area which again cleverly placed to serve for indoor or outdoor dining.
The kitchen consists of a good range of wall and base units with a grey modern finish with plenty of workspace and a double stainless-steel sink unit, a 6-burner range style oven with an overhead traditional Portuguese cooker hood. There is a upvc double glazed window unit opening to the side of the property and neutral floor tiles through to the dining area. There is a wood burner and another side opening double glazed upvc window unit.
At the other end of the hallway with a front door access are the 2 double bedrooms one on each side. Both these rooms have double-glazed window units and have been purposely placed to the north end of the property keeping it cooler for the hot summer months.
To the right centre of the property is a cosy snug area with a 2nd wood burner. This area is used as a through access to the garage on the left to the front of the property and a large utility/ pantry to the rear on the right with heaps of storage space.
In the middle of these 2 rooms is an extra addition to the home and is entered via a newly installed open wooden staircase with a large window to one side.
The staircase offers entry into a large fabulous open space in the attic area.
This whole area is a great example of a modern yet still rustic great addition to the property which the owners have found  very beneficial.
It has a vast space and has been  nicely furnished with a pellet burner being placed in the centre as a focal point.
The owners have placed an open office to the far side and kept the lounge area mainly central.
Within the space under the eaves they have had part made into storage and more could be added if required.
The interior roof is a nice wooden structure and set off perfectly with the bare metal girders and stanchion posts keeping in with the rustic theme. To the centre of the roof is a good height allowing a vast standing area and the floors are wooden throughout. There are 3 roof Velux windows with fitted blinds offering plenty of natural sunlight.
Not only have the owners added this new space but many additions have also been added to the exterior of the property.
To the outdoors is a sectioned off chicken coop all fenced with a nice run. There is also the addition of a large treated wooden barn with a large specially made heavy metal sliding doors where the owner stores his tractor and many tools and maintenance equipment.
To another area is an above ground pool with a shaded pergola area and a pretty wooden archway entrance.
There is a second shaded pergola which is used as an outdoor dining area and again has a wooden archway entrance.
There are also two brick built outhouses one used as home to the borehole and pump etc…. and the other one for additional storage.
The garden is lavished with many shrubs and flowers offering colour and interest all year round and is an idyllic spot for nature lovers or bird watchers etc….
Having a solar powered electric project on the land which the owners will discuss  in greater detail with any viewers.
With the property having many extras, viewings would allow any interested parties to appreciate and soak up the Alentejan lifestyle on offer.
_____________________________________PT______________________________
BM 110 Quinta rústica, Ourique, Alentejo.
Na aproximação à bonita vila de santa luzia, está esta quinta com 2 quartos, 1 casa de banho, situada em 6.250m2 de terreno.
Os terrenos são férteis e o solo é denso, algo raro em muitas zonas do Alentejo.
Os proprietários, que são jardineiros dedicados, afirmam que o terreno é perfeito, adicionando uma abundância de árvores frutíferas com a maioria das variedades que você possa imaginar. Ao todo, são aproximadamente:
52 árvores de fruto, 25 das quais são oliveiras e 3 filas de videiras. É totalmente irrigado e abastecido com água do furo.
Ao entrar na propriedade pela porta traseira: um terraço coberto e soberbo que tem um teto inclinado de madeira com um telhado de telha nova que cobre toda a propriedade. Os estores protegem perfeitamente o espaço, nos poucos meses chuvosos do ano.
Ao entrar na casa a partir desta área, há um longo corredor que mostra a extensão da propriedade da frente para trás.
A grande casa de banho familiar encontra-se imediatamente do lado direito e é um acesso útil para o pátio e jardim. É constituída por uma suite totalmente branca com banheira e chuveiro, a área é totalmente revestida a azulejos e com uma pequena janela que oferece ventilação e luz.
De frente para a casa de banho, à esquerda, fica a cozinha / área de jantar da casa, que mais uma vez está habilmente posicionada para servir para refeições internas ou externas.
A cozinha é composta por uma boa gama de móveis de parede e fundo com acabamento cinzento moderno com bastante espaço de trabalho e um lavatório duplo de aço inoxidável, um forno de 6 bicos com exaustor tradicional português. Há uma janela de vidro duplo que se abre para o lado de dentro da propriedade. Na sala de jantar há uma salamandra e outra janela com vidros duplos com abertura lateral.
Na outra extremidade do corredor, com acesso pela porta da frente, estão os 2 quartos duplos, um de cada lado. Ambos os quartos têm unidades de janela com vidros duplos e foram propositadamente colocados na extremidade norte da propriedade para mantê-la mais fresca durante os meses quentes de verão.
No lado direito da propriedade há uma área confortável e aconchegante com uma segunda lareira. Esta área é usada como um acesso direto à garagem. Tem também uma grande arrecadação / dispensa nas traseiras à direita com muitos espaços de arrumação.
No meio desses 2 quartos está um acréscimo extra à casa e tem acesso por uma escada de madeira aberta recém-instalada com uma grande janela de um dos lados.
A escadaria oferece acesso a um grande e fabuloso espaço na área do sótão.
Toda esta área é um grande exemplo de uma grande adição moderna, mas ainda se mantém rústica, algo que os proprietários acharam muito benéfico. Tem um espaço vasto e foi bem decorado com um queimador de pellets colocado no centro como um ponto focal. Os proprietários colocaram um escritório aberto do outro lado e mantiveram a área da sala principalmente central. Dentro do espaço, os donos tiveram uma parte feita para armazenamento. O telhado interior é uma bela estrutura de madeira e encaixa-se perfeitamente com as vigas de metal e pilares mantendo a casa rústica. No centro do telhado existe uma boa altura permitindo uma vasta área de pé e os pisos são em madeira. Existem 3 janelas Velux no telhado com persianas que oferece muita luz natural. Não só os proprietários adicionaram este novo espaço, mas muitas outras adições também foram adicionadas ao exterior da propriedade. Ao ar livre há um galinheiro todo cercado. Há também um grande celeiro de madeira com grandes portas de metal pesado especialmente feitas, onde o proprietário armazena o seu trator e muitas ferramentas e equipamentos de manutenção. Há uma piscina acima do solo com uma área para relaxar sombreada e uma entrada em arco de madeira bonita. Há uma segunda área para relaxar com sombra que é usada como área de refeições ao ar livre e também tem uma entrada em arco de madeira. Existem também duas casas externas, uma usada como casa do furo e bomba, etc … e a outra para armazenamento adicional. O jardim está repleto de arbustos e flores que oferecem cor e interesse durante todo o ano e é um local idílico para os amantes da natureza ou observadores de pássaros, etc. há um projeto elétrico movido a energia solar no terreno que os proprietários discutirão em maiores detalhes com qualquer interessado. Com a propriedade de muitos extras, as vistas permitirão a todos os interessados ​​apreciar e absorver o estilo de vida alentejano que oferece.